Child S.A.F.E Conference 2017
From

7:30 am

to 5:00 pm
---
Register
2017-11-30 07:30
2017-11-30 17:00
Europe/London
Child S.A.F.E Conference 2017
Thursday, November 30, 2017 7:30am-5:00pm *** Lunch on your own 12:30pm-1:45pm Location: Antioch Community Church (Waco, Texas) Register now for the seventh annual Child S.A.F.E Conference! This conference serves as a resource for a variety of professionals and students including law enforcement, educators, administration, mental health workers, health and medical professionals, members of faith communities, social workers, and anyone who plays a part in a child's life. CEU's, ETHICS, TCOLE CREDITS!! Plenary Speaker Mark Yarbrough "Suffer from BURNOUT? Give'em the F.I.N.G.E.R.!" Registration: $55 Early Bird Discount: $35 *** Register by October 1, 2017 (code: earlybird) Student Discount: $25 Topics Include: Human Trafficking Cultural Competency Victim Grooming Medical vs SANE Child Grief Trauma Transgender Victims MDT PLENARY (8:00 AM – 9:15 AM) Suffer From BURNOUT? Give'em the F.I.N.G.E.R.! Speaker: Mark Yarbrough Burnout affects millions of Americans each year and has been called "the disease of our civilization." The unhappiness and detachment burnout causes can threaten your job, your relationships, and your health. But there's good news — burnout can be healed. Former 20-year elected District Attorney, MARK YARBROUGH, from Littlefield, Texas (hometown of Waylon Jennings), personally experienced burnout, learned how to successfully overcome it, and went from "Burnout" to "On Fire!" He has since become a "burnout expert" and has written and published on the subject. Mark is a very entertaining, motivating and inspiring speaker. He has taught thousands of people how to overcome Burnout — from companies like Blue Bell Ice Cream and Xcel Energy, to teachers and doctors/nurses, to a variety of government workers (police officers, CPS workers, attorneys, victim's rights advocates, counselors, mental health professionals, etc.). Audience members will learn the definition of Burnout and the symptoms thereof. But more importantly, attendees will be laughing, and at the same time learning how to apply Mark's F.I.N.G.E.R. philosophy to help themselves or their co-workers avoid and/or recover from Burnout. This is a training that you won't want to miss! WORKSHOP 1 (9:30 AM -10:50 AM) Digital Evidence, Internet Service Providers, Social Media, and the Electronic Communications Privacy Act Speaker: Jason Lundquist Digital evidence is a treasure trove for investigators but is often overlooked. Sergeant Lundquist will discuss how to identify, preserve and retrieve digital evidence from a variety of sources. Participants will learn about resources and techniques as well as digital officer safety concerns. Information in this presentation will benefit any investigator and give them a basic understanding of the topic that they can use to build their expertise. Riptide: Understanding Human Trafficking in the Context of Commercial Sex Speaker: Emily Mills In this presentation, Emily Mills will share her discoveries of the human trafficking crisis while working directly with women in the commercial sex industry for over thirteen years through the ministry she founded, Jesus Said Love. Jesus Said Love reaches hundreds of women and children in the sex industry across the state of Texas every month. After the Outcry: The Crucial Role We Play In Supporting Trauma Survivors As They Heal Speaker: AshleyDawn Sheppard This presentation will provide an overview of the way in which traumatic experiences influence a person's emotional, cognitive and somatic states, and one's concept of […]
505 N 20th St, Waco, TX 76707, USA
hvasquez@advocacycntr.org

Thursday, November 30, 2017 7:30am-5:00pm
*** Lunch on your own 12:30pm-1:45pm
Location: Antioch Community Church (Waco, Texas)
Register now for the seventh annual Child S.A.F.E Conference! This conference serves as a resource for a variety of professionals and students including law enforcement, educators, administration, mental health workers, health and medical professionals, members of faith communities, social workers, and anyone who plays a part in a child's life. CEU's, ETHICS, TCOLE CREDITS!!
Plenary Speaker
Mark Yarbrough
"Suffer from BURNOUT? Give'em the F.I.N.G.E.R.!"
Registration: $55
Early Bird Discount: $35
*** Register by October 1, 2017 (code: earlybird)
Student Discount: $25
Topics Include:
Human Trafficking
Cultural Competency
Victim Grooming
Medical vs SANE
Child Grief
Trauma
Transgender Victims
MDT
---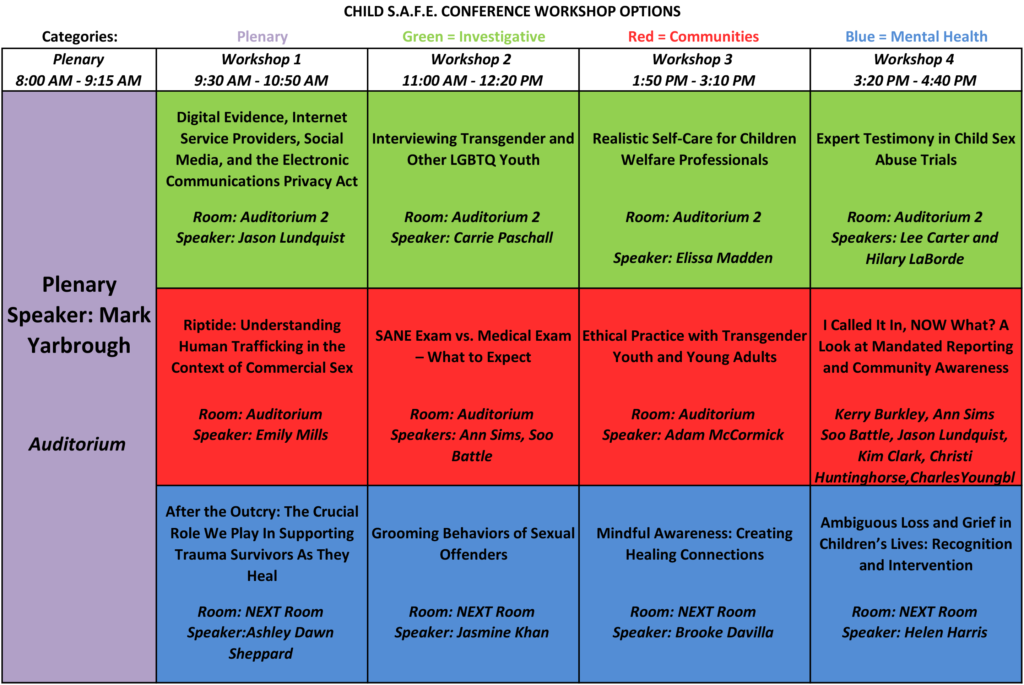 ---
PLENARY (8:00 AM – 9:15 AM)
Suffer From BURNOUT? Give'em the F.I.N.G.E.R.!
Speaker: Mark Yarbrough
Burnout affects millions of Americans each year and has been called "the disease of our civilization." The unhappiness and detachment burnout causes can threaten your job, your relationships, and your health. But there's good news — burnout can be healed. Former 20-year elected District Attorney, MARK YARBROUGH, from Littlefield, Texas (hometown of Waylon Jennings), personally experienced burnout, learned how to successfully overcome it, and went from "Burnout" to "On Fire!" He has since become a "burnout expert" and has written and published on the subject. Mark is a very entertaining, motivating and inspiring speaker. He has taught thousands of people how to overcome Burnout — from companies like Blue Bell Ice Cream and Xcel Energy, to teachers and doctors/nurses, to a variety of government workers (police officers, CPS workers, attorneys, victim's rights advocates, counselors, mental health professionals, etc.). Audience members will learn the definition of Burnout and the symptoms thereof. But more importantly, attendees will be laughing, and at the same time learning how to apply Mark's F.I.N.G.E.R. philosophy to help themselves or their co-workers avoid and/or recover from Burnout. This is a training that you won't want to miss!
WORKSHOP 1 (9:30 AM -10:50 AM)
Digital Evidence, Internet Service Providers, Social Media, and the Electronic Communications Privacy Act
Speaker: Jason Lundquist
Digital evidence is a treasure trove for investigators but is often overlooked. Sergeant Lundquist will discuss how to identify, preserve and retrieve digital evidence from a variety of sources. Participants will learn about resources and techniques as well as digital officer safety concerns. Information in this presentation will benefit any investigator and give them a basic understanding of the topic that they can use to build their expertise.
Riptide: Understanding Human Trafficking in the Context of Commercial Sex
Speaker: Emily Mills
In this presentation, Emily Mills will share her discoveries of the human trafficking crisis while working directly with women in the commercial sex industry for over thirteen years through the ministry she founded, Jesus Said Love. Jesus Said Love reaches hundreds of women and children in the sex industry across the state of Texas every month.
After the Outcry: The Crucial Role We Play In Supporting Trauma Survivors As They Heal
Speaker: AshleyDawn Sheppard
This presentation will provide an overview of the way in which traumatic experiences influence a person's emotional, cognitive and somatic states, and one's concept of self and others. Attendees will learn the crucial role healthy adults and caretakers must take in supporting children through the self-exploration and healing process, and how friends, family and professionals can support adults as they heal. Special focus will be given to concept of self, dissociation and emotional cut-off, coping mechanisms, acting out, power balances and the importance of timely and personalized "teaching moments".
WORKSHOP 2 (11:00 AM -12:30 PM)
Interviewing Transgender and Other LGBTQ Youth
Speaker: Carrie Paschall
Investigating cases of children and teenagers who have been sexually victimized can be challenging in and of itself, but it can be especially challenging when the child identifies with a different gender than they are biologically, are struggling with their sexual identity, or are dealing with abuse as a result of their sexuality. It is imperative that as interviewers we are gathering sound investigative information for the civil and criminal case while being culturally sensitive to the special issues LGBTQ children and teens might be dealing with. This presentation along with the use of case study and video examples will explore the dynamics and cultural sensitivity issues to consider when interviewing LGBTQ children.
SANE Exam vs. Medical Exam – What to Expect
Speakers: Ann Sims and Soo Battle
In this session presented by a pediatrician and a gynecologist, the medical aspects of sexual abuse and sexual assault will be discussed. The medical services offered by the Advocacy Center will be explained, and the difference between an acute exam done by a SANE (Sexual Assault Nurse
Examiner) and a delayed outcry medical exam done by a pediatrician will be defined. Case studies with images will then be presented to demonstrate the expected findings in both SANE and medical exams. Images are from actual cases and are graphic in nature.
Grooming Behaviors of Sexual Offenders
Speaker: Jasmine Khan
Grooming is the psychological, emotional, and physical preparation of a victim that allows the offender to victimize them. This session will identify the patterns of grooming behaviors that, when successful, reduce the likelihood of outcry. The pattern of grooming will also be examined in context of the family and society, which helps us to understand why a victim may not be believed when they do report abuse.
WORKSHOP 3 (1:50 PM- 3:10 PM)
Realistic Self-Care for Children Welfare Professionals
Speaker: Elissa Madden
Information coming soon!
Ethical Practice with Transgender Youth and Young Adults
Speaker: Adam McCormick
Transgender youth and young adults experience nearly every form of maltreatment and violence at disproportionately high rates. This presentations seeks to better equip practitioners and advocates to provide empowering services to transgender youth and their families in the aftermath of trauma, violence, and maltreatment. This interactive and experiential presentation will also explore the role that affirmation, acceptance, and cultural competence can have on the health, safety, and well-being of transgender youth in the aftermath of trauma and maltreatment. In addition to introducing basic terminology related to gender identity, the presenter will explore strengths-based interventions that are affirming, trauma-informed, and culturally competent.
Mindful Awareness: Creating Healing Connections
Speaker: Brooke Davilla
Creating healing connections for our children who come from 'hard places' is possible. Understanding the risk factors and effects of trauma allows for organizations and individuals working with children to better understand the factors affecting the child's overall well-being and functioning. A core ability in creating healing connections is mindful awareness. Together we will learn about the definition, benefits, and practical strategies for incorporating mindful awareness in daily practice.
WORKSHOP 4 (3:20 PM- 4:40 PM)
Expert Testimony in Child Sex Abuse Trials
Speakers: Lee Carter and Hilary LaBorde
Do you worry that average jurors won't understand the dynamics of sexual abuse? How can jurors understand why some children don't tell, or worse, recant? Why they may even love their perpetrator? Expert testimony can explain these problems. In this interactive session, you'll see how Waco prosecutors question expert witness Dr. Lee Carter in order to explain this difficult subject matter to jurors who may have little to no experience in this reality – which is all too real to so many children. Attendees can pose their own questions at the end of the presentation.
I Called It In, NOW What? A Look at Mandated Reporting and Community Awareness
Panel: Kerry Burkley, Ann Sims, Soo Battle, Jason Lundquist, Kim Clark, Christi
Huntinghorse, Charles Youngblood
This session will detail the mandates and process of reporting child abuse by bringing together members
from law enforcement, medical professionals, CAC staff, and CPS investigators. This session will include a focus on the practice and protocols that each discipline has in responding to reported suspected abuse. Participants will hear how to effectively activate the multidisciplinary team effort to meet the demand of rising child abuse cases.
Ambiguous Loss and Grief in Children's Lives: Recognition and Intervention
Speaker: Helen Harris
Some children experience loss and grief through the death of loved ones. More often, the loss experience for children occurs through other significant life changes including parental divorce, moves, incarceration, deployment and abuse with or without substitute care (KeithLucas, 1994). This presentation will focus on the grief experience in children, including three theoretical frameworks for understanding children's grief and guiding evidence based practice interventions. Participants will explore Alan Keith-Lucas' model of protest in grief; Worden's Tasks of Mourning; Corr's dimensions of grief; and Harris, Hess, and Polson's findings on ambiguous loss. This interactive workshop will include case presentations with applications of models to develop care plans and intervention strategies.